In this third book in the Lunar Chronicles, Cinder and Captain Thorne are fugitives on the run, now with Scarlet and Wolf in tow. Together, they're plotting to overthrow Queen Levana and her army.
Their best hope lies with Cress, a girl imprisoned on a satellite since childhood who's only ever had her netscreens as company. All that screen time has made Cress an excellent hacker. Unfortunately, she's just received orders from Levana to track down Cinder and her handsome accomplice.
When a daring rescue of Cress goes awry, the group is separated. Cress finally has her freedom, but it comes at a higher price. Meanwhile, Queen Levana will let nothing prevent her marriage to Emperor Kai. Cress, Scarlet, and Cinder may not have signed up to save the world, but they may be the only hope the world has.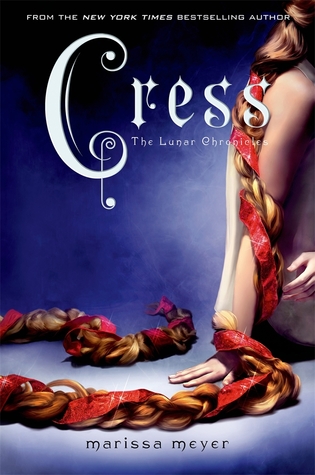 I was actually quite apprehensive while getting into this book, as I was really disappointed by Scarlet. However, I really ended up enjoying this one. I liked Cress as a character, and it was great seeing Cinder, Kai, Scarlet, Wolfe and Thorne again.  I also really liked the plot. There were times when I thought it got a bit tropey, but for the most part, I was too invested in the plot to notice it. I thought Cress showed great character development, she started out as thinking of herself as this damsel in distress waiting to be rescued by Thorne, but ended up proving herself to be a stronger person than she thought. I also liked that Thorne did not play a typical knight in shining armor, and instead was shown to be a very much flawed character. To be honest, I was not too fond of Thorne in Scarlet, but in this book, I started growing to like him. I liked how the romance between Cress and Thorne started out as Cress's one-sided crush, and how it took time for Thorne to start reciprocating her feelings. It was quite refreshing to have it like that instead of the cliched insta-love.
One thing I'd say I enjoyed about the entire series is the diversity and the fact that there were scenes in each book that took place in different parts of the world. The first book took place mostly in China/East Asia, the second book in France and a lot of the third book took place in Africa. That was really refreshing.
I don't  know if it's just me, but I somehow don't really care for Scarlet and Wolf's storylines as much as that of the other characters. I loved the glimpse into Princess Winter's life we got in the end, though, and I'm really looking forward to reading the next book.
Rating: 4.5/5