Top Ten Tuesday is a weekly feature hosted by the Broke and the Bookish. Today's topic is a freebie, so I am going to talk about the most unique reads on my TBR.
1. Palimpest by Catherynne Valante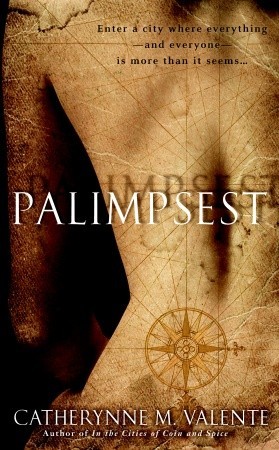 Between life and death, dreaming and waking, at the train stop beyond the end of the world is the city of Palimpsest. To get there is a miracle, a mystery, a gift, and a curse—a voyage permitted only to those who've always believed there's another world than the one that meets the eye. Those fated to make the passage are marked forever by a map of that wondrous city tattooed on their flesh after a single orgasmic night. To this kingdom of ghost trains, lion-priests, living kanji, and cream-filled canals come four travelers: Oleg, a New York locksmith; the beekeeper November; Ludovico, a binder of rare books; and a young Japanese woman named Sei. They've each lost something important—a wife, a lover, a sister, a direction in life—and what they will find in Palimpsest is more than they could ever imagine.
I thought it was a typo when I saw the words 'sexually transmitted city' in a review. But it turned out to be an accurate description. The idea is so unique and different, and intriguing.
2. Station eleven by Emily St John Mandel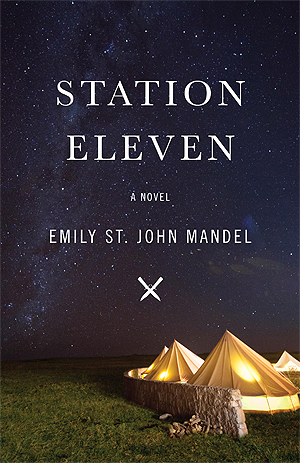 In audacious, darkly glittering novel set in the eerie days of civilization's collapse, Station Eleven tells the spellbinding story of a Hollywood star, his would-be savior, and a nomadic group of actors roaming the scattered outposts of the Great Lakes region, risking everything for art and humanity.
One snowy night Arthur Leander, a famous actor, has a heart attack onstage during a production of King Lear. Jeevan Chaudhary, a paparazzo-turned-EMT, is in the audience and leaps to his aid. A child actress named Kirsten Raymonde watches in horror as Jeevan performs CPR, pumping Arthur's chest as the curtain drops, but Arthur is dead. That same night, as Jeevan walks home from the theater, a terrible flu begins to spread. Hospitals are flooded and Jeevan and his brother barricade themselves inside an apartment, watching out the window as cars clog the highways, gunshots ring out, and life disintegrates around them.
Twenty years later, Kirsten is an actress with the Traveling Symphony. Together, this small troupe moves between the settlements of an altered world, performing Shakespeare and music for scattered communities of survivors. Written on their caravan, and tattooed on Kirsten's arm is a line from Star Trek: "Because survival is insufficient." But when they arrive in St. Deborah by the Water, they encounter a violent prophet who digs graves for anyone who dares to leave.
Spanning decades, moving back and forth in time, and vividly depicting life before and after the pandemic, this suspenseful, elegiac novel is rife with beauty. As Arthur falls in and out of love, as Jeevan watches the newscasters say their final good-byes, and as Kirsten finds herself caught in the crosshairs of the prophet, we see the strange twists of fate that connect them all. A novel of art, memory, and ambition, Station Eleven tells a story about the relationships that sustain us, the ephemeral nature of fame, and the beauty of the world as we know it.
This is an apocalyptic novel revolving around a theatre troupe and that idea is so unique and different from everything I have ever read before. Besides, the cover looks gorgeous.
3. A Darkly beating heart by Lindsay Smith
A time-travel story that alternates between modern day and 19th century Japan as one girl confronts the darkness lurking in her soul.
No one knows what to do with Reiko. She is full of hatred. All she can think about is how to best hurt herself and the people closest to her. After a failed suicide attempt, Reiko's parents send her from their Seattle home to spend the summer with family in Japan to learn to control her emotions. But while visiting Kuramagi, a historic village preserved to reflect the nineteenth-century Edo period, Reiko finds herself slipping back in time into the life of Miyu, a young woman even more bent on revenge than Reiko herself. Reiko loves being Miyu, until she discovers the secret of Kuramagi village, and must face down Miyu's demons as well as her own.
The idea of a protagonist who is filled with hatred and anger is pretty unique, and while I've heard mixed things about this book, it definitely sounds interesting. Also, the book has a Japanese setting, and incorporates Japanese culture, which I've not read much about.
4. Unwind by Neal Shusterman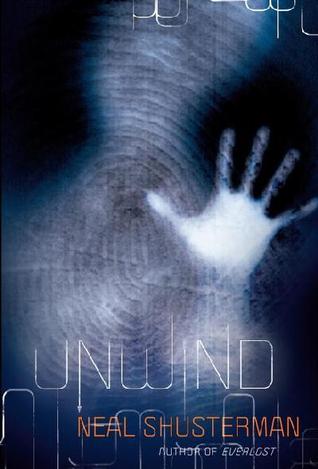 Connor, Risa, and Lev are running for their lives.
The Second Civil War was fought over reproductive rights. The chilling resolution: Life is inviolable from the moment of conception until age thirteen. Between the ages of thirteen and eighteen, however, parents can have their child "unwound," whereby all of the child's organs are transplanted into different donors, so life doesn't technically end. Connor is too difficult for his parents to control. Risa, a ward of the state, is not enough to be kept alive. And Lev is a tithe, a child conceived and raised to be unwound. Together, they may have a chance to escape and to survive.
While there are a lot of dystopian books out there, this one has such a unique, terrifying premise.
5. YOU by Caroline Kepnes
6
When a beautiful, aspiring writer strides into the East Village bookstore where Joe Goldberg works, he does what anyone would do: he Googles the name on her credit card.
There is only one Guinevere Beck in New York City. She has a public Facebook account and Tweets incessantly, telling Joe everything he needs to know: she is simply Beck to her friends, she went to Brown University, she lives on Bank Street, and she'll be at a bar in Brooklyn tonight—the perfect place for a "chance" meeting.
As Joe invisibly and obsessively takes control of Beck's life, he orchestrates a series of events to ensure Beck finds herself in his waiting arms. Moving from stalker to boyfriend, Joe transforms himself into Beck's perfect man, all while quietly removing the obstacles that stand in their way—even if it means murder.
I've heard this book is mostly written in second person, and I've never read a book written in second person before.
6. Geek Love by Katherine Dunn
Geek Love is the story of the Binewskis, a carny family whose mater- and paterfamilias set out–with the help of amphetamine, arsenic, and radioisotopes–to breed their own exhibit of human oddities. There's Arturo the Aquaboy, who has flippers for limbs and a megalomaniac ambition worthy of Genghis Khan . . . Iphy and Elly, the lissome Siamese twins . . . albino hunchback Oly, and the outwardly normal Chick, whose mysterious gifts make him the family's most precious–and dangerous–asset.
As the Binewskis take their act across the backwaters of the U.S., inspiring fanatical devotion and murderous revulsion; as its members conduct their own Machiavellian version of sibling rivalry, Geek Love throws its sulfurous light on our notions of the freakish and the normal, the beautiful and the ugly, the holy and the obscene. Family values will never be the same.
The concept behind this book is so horrifying and interesting.
7. Leviathan by Scott Westerfield
Prince Aleksander, would-be heir to the Austro-Hungarian throne, is on the run. His own people have turned on him. His title is worthless. All he has is a battletorn war machine and a loyal crew of men.
Deryn Sharp is a commoner, disguised as a boy in the British Air Service. She's a brilliant airman. But her secret is in constant danger of being discovered.
With World War I brewing, Alek and Deryn's paths cross in the most unexpected way…taking them on a fantastical, around-the-world adventure that will change both their lives forever.
A steampunk World War retelling! I definitely find it intriguing.
9. Wolf by Wolf by Ryan Graudin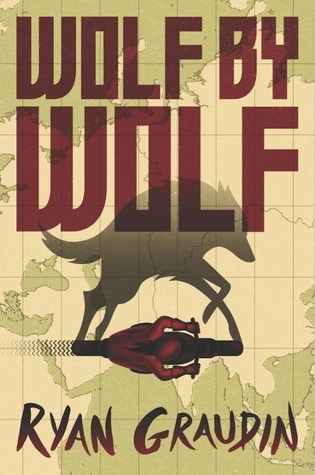 Her story begins on a train.
The year is 1956, and the Axis powers of the Third Reich and Imperial Japan rule. To commemorate their Great Victory, Hitler and Emperor Hirohito host the Axis Tour: an annual motorcycle race across their conjoined continents. The victor is awarded an audience with the highly reclusive Adolf Hitler at the Victor's Ball in Tokyo.
Yael, a former death camp prisoner, has witnessed too much suffering, and the five wolves tattooed on her arm are a constant reminder of the loved ones she lost. The resistance has given Yael one goal: Win the race and kill Hitler. A survivor of painful human experimentation, Yael has the power to skinshift and must complete her mission by impersonating last year's only female racer, Adele Wolfe. This deception becomes more difficult when Felix, Adele twin's brother, and Luka, her former love interest, enter the race and watch Yael's every move.
But as Yael grows closer to the other competitors, can she bring herself to be as ruthless as she needs to be to avoid discovery and complete her mission?
From the author of The Walled City comes a fast-paced and innovative novel that will leave you breathless.
I have not read many historical retellings, and this is so fascinating and intriguing!
10. The gender game by Bella Forrest
A toxic river divides nineteen-year-old Violet Bates's world by gender.
Women rule the East. Men rule the West.
Welcome to the lands of Matrus and Patrus.
Ever since the disappearance of her beloved younger brother, Violet's life has been consumed by an anger she struggles to control. Already a prisoner to her own nation, now she has been sentenced to death for her crimes.
But one decision could save her life.
To enter the kingdom of Patrus, where men rule and women submit.
Everything about the patriarchy is dangerous for a rebellious girl like Violet. She cannot break the rules if she wishes to stay alive.
But abiding by rules has never been Violet's strong suit.
When she's thrust into more danger than she could have ever predicted, Violet is forced to sacrifice many things in the forbidden kingdom … including forbidden love.
In a world divided by gender, only the strongest survive…
So, what do you think of these books? Read any of them? Do share your opinions.