Top Ten Tuesday is a weekly feature hosted by The Broke and the Bookish. Today's theme is 'Books of X genre recently added to your TBR ' and I thought I'd talk about Science Fiction and Fantasy,since I love those genres.
1.Domechild by Shiv Ramdas
A suicidal machine. A child with a secret that can change the world. The man trapped between them. In the City, where machines take care of everything, lives Albert, an ordinary citizen with an extraordinary problem: Hes being blackmailed into becoming the first person in living memory to actually do something.
What begins as a chance encounter with an outlaw child swiftly spirals out of control as Albert is trapped between the authorities and the demands of his unusual blackmailer. Forced to go on the run for his life, he finds himself in a shadow world of cyber-junkies, radicals and rebels, where he discovers the horrifying truth behind the City, a truth that will make him question everything he has ever known.
2.1Q84 by Haruki Murakami
The year is 1984 and the city is Tokyo.
A young woman named Aomame follows a taxi driver's enigmatic suggestion and begins to notice puzzling discrepancies in the world around her. She has entered, she realizes, a parallel existence, which she calls 1Q84 —"Q is for 'question mark.' A world that bears a question." Meanwhile, an aspiring writer named Tengo takes on a suspect ghostwriting project. He becomes so wrapped up with the work and its unusual author that, soon, his previously placid life begins to come unraveled.
As Aomame's and Tengo's narratives converge over the course of this single year, we learn of the profound and tangled connections that bind them ever closer: a beautiful, dyslexic teenage girl with a unique vision; a mysterious religious cult that instigated a shoot-out with the metropolitan police; a reclusive, wealthy dowager who runs a shelter for abused women; a hideously ugly private investigator; a mild-mannered yet ruthlessly efficient bodyguard; and a peculiarly insistent television-fee collector.
3. The Exo Project by Andrew DeYoung
Desperate for money to save his sick mother, seventeen-year-old Matthew agrees to participate in the Exo Project, a government plan to save the human race by flying across the galaxy in search of a habitable planet for resettlement. He thinks he's been given a death sentence: 100 years in cryostasis, followed by a quick death on some barren world. But then he lands on Gle'ah, discovering the strange, beautiful creatures who live there, including Kiva, the captivating teenage girl who leads her planet's matriarchal society. Kiva views Matthew as a threat and for good reason—if he tells Earth that he's found a suitable planet, it will mean the end of her people's way of life. But then Kiva and Matthew discover an emotional connection they never expected—and as they begin to delve into the secrets of Matthew's mission and the dark truth behind the seeming paradise of Gle'ah, the choices they make will have consequences for both of their worlds.
3.Zenith by Sasha Alsberg and Lindsay Cummings
Most know Androma Racella as the Bloody Baroness, a powerful mercenary whose reign of terror stretches across the Mirabel Galaxy. To those aboard her glass starship, Marauder, however, she's just Andi, their friend and fearless leader.
But when a routine mission goes awry, the Marauder's all-girl crew is tested as they find themselves in a treacherous situationand at the mercy of a sadistic bounty hunter from Andi's past.
Meanwhile, across the galaxy, a ruthless ruler waits in the shadows of the planet Xen Ptera, biding her time to exact revenge for the destruction of her people. The pieces of her deadly plan are about to fall into place, unleashing a plot that will tear Mirabel in two.
Andi and her crew embark on a dangerous, soul-testing journey that could restore order to their ship or just as easily start a war that will devour worlds. As the Marauder hurtles toward the unknown, and Mirabel hangs in the balance, the only certainty is that in a galaxy run on lies and illusion, no one can be trusted.
5. The Book of Joan by Lidia Yuknavitch
In the near future, world wars have transformed the earth into a battleground. Fleeing the unending violence and the planet's now-radioactive surface, humans have regrouped to a mysterious platform known as CIEL, hovering over their erstwhile home. The changed world has turned evolution on its head: the surviving humans have become sexless, hairless pale-white creatures floating in isolation, inscribing stories upon their skin.
Out of the ranks of the endless wars rises Jean de Men, a charismatic and bloodthirsty cult leader who turns CIEL into a quasi-corporate police state. A group of rebels unite to dismantle his iron rule—galvanized by the heroic song of Joan, a child-warrior who possesses a mysterious force that lives within her and communes with the earth. When de Men and his armies turn Joan into a martyr, the consequences are astonishing. And no one—not the rebels, Jean de Men, or even Joan herself—can foresee the way her story and unique gift will forge the destiny of an entire world for generations.
6. The Demon King by Cinda Williams Chima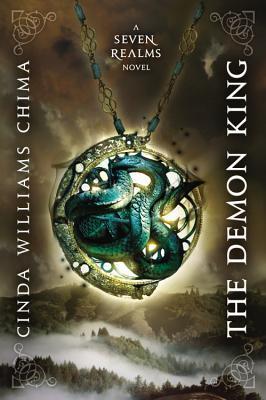 Times are hard in the mountain city of Fellsmarch. Reformed thief Han Alister will do almost anything to eke out a living for his family. The only thing of value he has is something he can't sell—the thick silver cuffs he's worn since birth. They're clearly magicked—as he grows, they grow, and he's never been able to get them off.
One day, Han and his clan friend, Dancer, confront three young wizards setting fire to the sacred mountain of Hanalea. Han takes an amulet from Micah Bayar, son of the High Wizard, to keep him from using it against them. Soon Han learns that the amulet has an evil history—it once belonged to the Demon King, the wizard who nearly destroyed the world a millennium ago. With a magical piece that powerful at stake, Han knows that the Bayars will stop at nothing to get it back.
Meanwhile, Raisa ana'Marianna, princess heir of the Fells, has her own battles to fight. She's just returned to court after three years of freedom in the mountains—riding, hunting, and working the famous clan markets. Raisa wants to be more than an ornament in a glittering cage. She aspires to be like Hanalea—the legendary warrior queen who killed the Demon King and saved the world. But her mother has other plans for her…
The Seven Realms tremble when the lives of Hans and Raisa collide, fanning the flames of the smoldering war between clans and wizards.
7.Red Sister by Mark Lawrence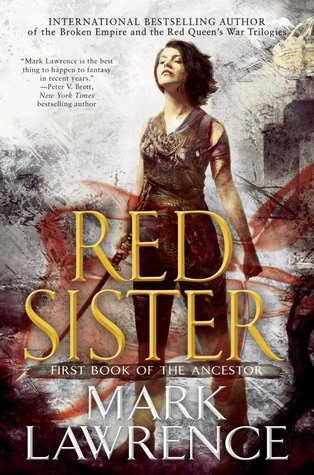 I was born for killing – the gods made me to ruin.
At the Convent of Sweet Mercy young girls are raised to be killers. In a few the old bloods show, gifting talents rarely seen since the tribes beached their ships on Abeth. Sweet Mercy hones its novices' skills to deadly effect: it takes ten years to educate a Red Sister in the ways of blade and fist.
But even the mistresses of sword and shadow don't truly understand what they have purchased when Nona Grey is brought to their halls as a bloodstained child of eight, falsely accused of murder: guilty of worse.
Stolen from the shadow of the noose, Nona is sought by powerful enemies, and for good reason. Despite the security and isolation of the convent her secret and violent past will find her out. Beneath a dying sun that shines upon a crumbling empire, Nona Grey must come to terms with her demons and learn to become a deadly assassin if she is to survive…
8. Neverwhere by Neil Gaiman
Under the streets of London there's a place most people could never even dream of. A city of monsters and saints, murderers and angels, knights in armour and pale girls in black velvet. This is the city of the people who have fallen between the cracks.
Richard Mayhew, a young businessman, is going to find out more than enough about this other London. A single act of kindness catapults him out of his workday existence and into a world that is at once eerily familiar and utterly bizarre. And a strange destiny awaits him down here, beneath his native city: Neverwhere
9. The Bone Season by Samantha Shannon
The year is 2059. Nineteen-year-old Paige Mahoney is working in the criminal underworld of Scion London, based at Seven Dials, employed by a man named Jaxon Hall. Her job: to scout for information by breaking into people's minds. For Paige is a dreamwalker, a clairvoyant and, in the world of Scion, she commits treason simply by breathing.
It is raining the day her life changes for ever. Attacked, drugged and kidnapped, Paige is transported to Oxford – a city kept secret for two hundred years, controlled by a powerful, otherworldly race. Paige is assigned to Warden, a Rephaite with mysterious motives. He is her master. Her trainer. Her natural enemy. But if Paige wants to regain her freedom she must allow herself to be nurtured in this prison where she is meant to die.
The Bone Season introduces a compelling heroine and also introduces an extraordinary young writer, with huge ambition and a teeming imagination. Samantha Shannon has created a bold new reality in this riveting debut.
10. Alanna: The First Adventure by Tamora Pierce
From now on I'm Alan of Trebond, the younger twin. I'll be a knight.
And so young Alanna of Trebond begins the journey to knighthood. Though a girl, Alanna has always craved the adventure and daring allowed only for boys; her twin brother, Thom, yearns to learn the art of magic. So one day they decide to switch places: Thom heads for the convent to learn magic; Alanna, pretending to be a boy, is on her way to the castle of King Roald to begin her training as a page.
But the road to knighthood is not an easy one. As Alanna masters the skills necessary for battle, she must also learn to control her heart and to discern her enemies from her allies.
Filled with swords and sorcery, adventure and intrigue, good and evil, Alanna's first adventure begins – one that will lead to the fulfillment of her dreams and the magical destiny that will make her a legend in her land.
Have you read any of these? Thoughts?