Top Five Wednesday is a weekly feature hosted by Lainey@GingerReadsLainey and Sam@ ThoughtsonTomes. Today's topic is favorite side ships. So, let's get started.
Bill and Fleur from the Harry Potter series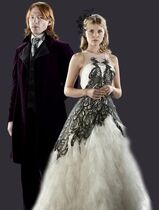 I think Fleur Delacour is one of the most underrated characters in Harry Potter. She was smart enough to be qualified for the triwizard tournament, brave enough to risk her life by being one of the seven Harrys in the last book despite not being obligated by duty or personal connection and she was also a loving partner to Bill. She proved herself to be a great partner after Bill was attacked by the werewolf, when she declared she did not care how he looked and she wanted to marry him for who he is, not because of his looks. They make a great couple who deserve all the happiness in the world.
2. Finnick and Annie from the Hunger Games
Team Peeta or Team Gale? I don't really care. However I think Finnick and Annie had a beautiful relationship. They had both been through so much, and it was too bad they did not get their happily ever after.
3. Beckendorf and Silena from the Percy Jackson series
While Percabeth is life, Beckendorf and Silena are two really underrated characters who deserved so much more than what they got. Sigh.
4. Roran and Katrina from the Inheritance Cycle
Roran and Katrina are one of the greatest couples ever. They are so incredibly loyal and devoted to each other it is beautiful.
5. Jacob and Queenie from Fantastic Beasts and Where to Find Them.
They make an incredibly cute couple!
So those were my top five favorite side ships. Do tell me yours.