I had already made a wrap up post for the Wrap Up books I had read this month. Today, I  will talk about the fiction books I had read.
So, November was a really mixed kind of reading month for me. There were a lot of great books interspersed with mediocre ones. So, let's get started.
A Spool of Blue Thread by Anne Tyler (3.5/5)
I really wanted to like this one, as I had really high expectations for it. Unfortunately, it did not impress me as much as I thought it would. It follows three generations of a family, and unfolds the secrets they hold. It wasn't bad by any means, in fact it was really enjoyable. However, I had overly high expectations which it did not match.
2. Aldo by Betty Jean Craige(3/5)
I got a free ARC of his through Netgalley, and I thought it had a pretty cool concept. It follows a group of academics who are threatened by a person who is opposed to their controversial research. It touched on some interesting subjects like academic freedom vs ethics, but the plot was quite boring, in my opinion.
3. Caves of Steel by Isaac Asimov (4/5)
This is an older Sci-Fi book about robots. It revolves around a murder mystery in a society where robots are not fully accepted in human society. Not my favorite of Asimov's books, nevertheless, a good read.
4. The Remains of the Day by Kazuo Ishiguro (4.5/5)
This was my first book by Nobel prize winning author Kazuo Ishiguro, and I absolutely loved it. A story of a butler, it was a really heartwarming, emotional read.
5. Misery by Stephen King (4.5/5)
I had not read many books by Stephen King before, and in fact this was he first really famous book by him which I had read. The story of a writer kidnapped by an obsessed fan, who forces him to bring back a character to life, it left me fervently turning the pages into the night.
6. Eileen By Otessa Moshfegh (3/5)
Another dark, twisted book, it follows a sociopathic woman named Eileen as she goes about her life as the carer of her alcoholic father and secretary at a boys' prison.  I normally like dark books, but the twists on this one was not nearly as intriguing as I expected  it to be, at all.
7. The Handmaid's Tale by Margaret Atwood(4.5/5)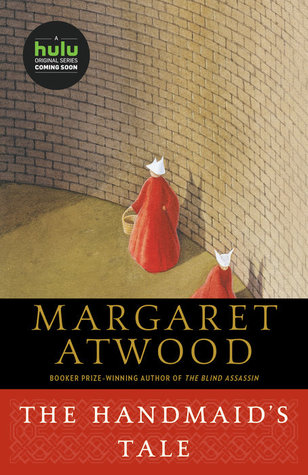 A heart-wrenching dystopian tale set in a world where women have no rights, this was an amazing read, and I really liked it. A really relevant narrative.
8. Horns by Joe Hill (3.5/5)
This was a really interesting book. It followed a young man who once used to lead a charmed life, but it falls apart when he is falsely accused of raping and murdering his beloved girlfriend. One day, he grows horns on his head, and that, obviously changes his life. I liked the book, just not as much as I thought I would.
9. Equal Rites by Terry Prachett (Discworld #3) (4/5)
This was my first Terry Pratchett. It was quite an enjoyable read.