I thought it would be fun to talk about books of different genres I have on my TBR. So, today I'm sharing the top ten most recent historical fiction I've added to my TBR. (This also includes alternate history).
Washington Black by Esi Edugyan
Washington Black is an eleven-year-old field slave who knows no other life than the Barbados sugar plantation where he was born. When his master's eccentric brother chooses him to be his manservant, Wash is terrified of the cruelties he is certain await him. But Christopher Wilde, or "Titch," is a naturalist, explorer, scientist, inventor, and abolitionist. He initiates Wash into a world where a flying machine can carry a man across the sky; where two people, separated by an impossible divide, might begin to see each other as human; and where a boy born in chains can embrace a life of dignity and meaning. But when a man is killed and a bounty is placed on Wash's head, Titch abandons everything to save him. What follows is their flight along the eastern coast of America, and, finally, to a remote outpost in the Arctic, where Wash, left on his own, must invent another new life, one which will propel him further across the globe. From the sultry cane fields of the Caribbean to the frozen Far North, Washington Black tells a story of friendship and betrayal, love and redemption, of a world destroyed and made whole again–and asks the question, what is true freedom?
I heard of this book after it got shortlisted for the Booker prize. I think it has an interesting premise and I'm looking forward to reading it.
2. When Hitler Stole Pink Rabbit by Judith Kerr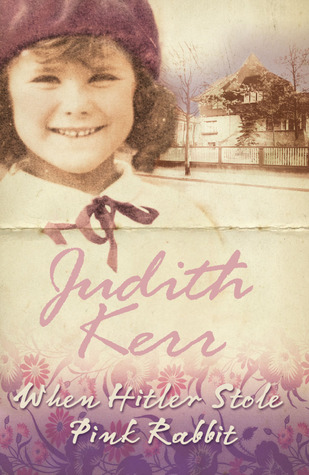 Anna is not sure who Hitler is, but she sees his face on posters all over Berlin. Then one morning, Anna and her brother awake to find her father gone! Her mother explains that their father has had to leave and soon they will secretly join him. Anna just doesn't understand. Why do their parents keep insisting that Germany is no longer safe for Jews like them? Because of Hitler, Anna must leave everything behind. Based on the gripping real-life story of the author, this poignant back-list staple gets a brand new look for a new generation of readers just in time for Holocaust Remembrance Month.
I've heard this children's book recommended by one of my favorite YouTubers. While there are a lot of books about World War 2, Hitler and the Nazis out there, I thought this one would be an interesting read.
3. Everfair by Nisi Shawl
Everfair is a wonderful Neo-Victorian alternate history novel that explores the question of what might have come of Belgium's disastrous colonization of the Congo if the native populations had learned about steam technology a bit earlier. Fabian Socialists from Great Britian join forces with African-American missionaries to purchase land from the Belgian Congo's "owner," King Leopold II. This land, named Everfair, is set aside as a safe haven, an imaginary Utopia for native populations of the Congo as well as escaped slaves returning from America and other places where African natives were being mistreated.
I'm particularly interested in reading this, because it deals with a part of history I'm totally unfamiliar with, and not dealt with very often in fiction. I like the whole alternate history/steampunk premise as well, so really want to read it. It doesn't have a particularly high rating on goodreads, so I am a bit apprehensive but all the same it is interesting.
4. The Plot against America by Philip Roth
When the renowned aviation hero and rabid isolationist Charles A. Lindbergh defeated Franklin Roosevelt by a landslide in the 1940 presidential election, fear invaded every Jewish household in America.
Here's another alternate history novel! Though the goodreads blurb doesn't reveal much, I've heard great things about it.
5. The Man in the High Castle by Philip K Dick
It's America in 1962. Slavery is legal once again. The few Jews who still survive hide under assumed names. In San Francisco, the I Ching is as common as the Yellow Pages. All because some twenty years earlier the United States lost a war—and is now occupied by Nazi Germany and Japan.
This harrowing, Hugo Award-winning novel is the work that established Philip K. Dick as an innovator in science fiction while breaking the barrier between science fiction and the serious novel of ideas. In it Dick offers a haunting vision of history as a nightmare from which it may just be possible to wake.
I'm currently watching the show based on this book, and it got me interested in reading the book as well. The premise seems quite interesting.
6. They came on Viking Ships by Jackie French
In this story we follow Hekja as she sails the high seas, discovers love and family and finally finds out where she belongs. When Hekja's village gets raided by huge Vikings and she is captured to be used as a slave for her new mistress Freydis, Hekja only has her trusty dog Riki Snarfari and her fast legs to guide her. But will it be enough to survive in enemy territory?
I haven't read much about the Vikings, and I think this would be a good place to start.
7. She would be King by Wayetu Moore
Wayétu Moore's powerful debut novel, She Would Be King, reimagines the dramatic story of Liberia's early years through three unforgettable characters who share an uncommon bond. Gbessa, exiled from the West African village of Lai, is starved, bitten by a viper, and left for dead, but still she survives. June Dey, raised on a plantation in Virginia, hides his unusual strength until a confrontation with the overseer forces him to flee. Norman Aragon, the child of a white British colonizer and a Maroon slave from Jamaica, can fade from sight when the earth calls him. When the three meet in the settlement of Monrovia, their gifts help them salvage the tense relationship between the African American settlers and the indigenous tribes, as a new nation forms around them.

Here's another book about a place not seen that often in fiction! Definitely want to check this one out. It's also a fairly new release.
8. Woman of the Dunes by Sarah Maine

Libby Snow has always felt the pull of Ullanessm a lush Scottish island enshrouded in myth and deeply important to her family. Her great-great-grandmother Ellen was obsessed with the strange legend of Ulla, a Viking maiden who washed up on shore with the nearly lifeless body of her husband—and who inspired countless epic poems and the island's name.
Central to the mystery is an ornate chalice and Libby, an archaeologist, finally has permission to excavate the site where Ulla is believed to have lived. But what Libby finds in the ancient dunes is a body from the Victorian era, clearly murdered…and potentially connected to Ellen.
What unfolds is an epic story that spans centuries, with Libby mining Ellen and Ulla's stories for clues about the body, and in doing so, discovering the darker threads that bind all three women together across history.

This is another book recommended by one of my favorite booktubers.
9. Year of Wonders by Geraldine Brooks
When an infected bolt of cloth carries plague from London to an isolated village, a housemaid named Anna Frith emerges as an unlikely heroine and healer. Through Anna's eyes we follow the story of the fateful year of 1666, as she and her fellow villagers confront the spread of disease and superstition. As death reaches into every household and villagers turn from prayers to murderous witch-hunting, Anna must find the strength to confront the disintegration of her community and the lure of illicit love. As she struggles to survive and grow, a year of catastrophe becomes instead annus mirabilis, a "year of wonders."
Inspired by the true story of Eyam, a village in the rugged hill country of England, Year of Wonders is a richly detailed evocation of a singular moment in history.
I recently watched an interview with Geraldine and I thought it was interesting. This deals with an interesting time in history and rather horrific time in history, and that interests me.
10. Midnight's Children by Salman Rushdie
Saleem Sinai was born at midnight, the midnight of India's independence, and found himself mysteriously "handcuffed to history" by the coincidence. He is one of 1,001 children born at the midnight hour, each of them endowed with an extraordinary talent – and whose privilege and curse it is to be both master and victims of their times. Through Saleem's gifts – inner ear and wildly sensitive sense of smell – we are drawn into a fascinating family saga set against the vast, colourful background of the India of the 20th century.
Though I'm Indian, I've never really read that many books dealing with Indian history, and I hope to change that.